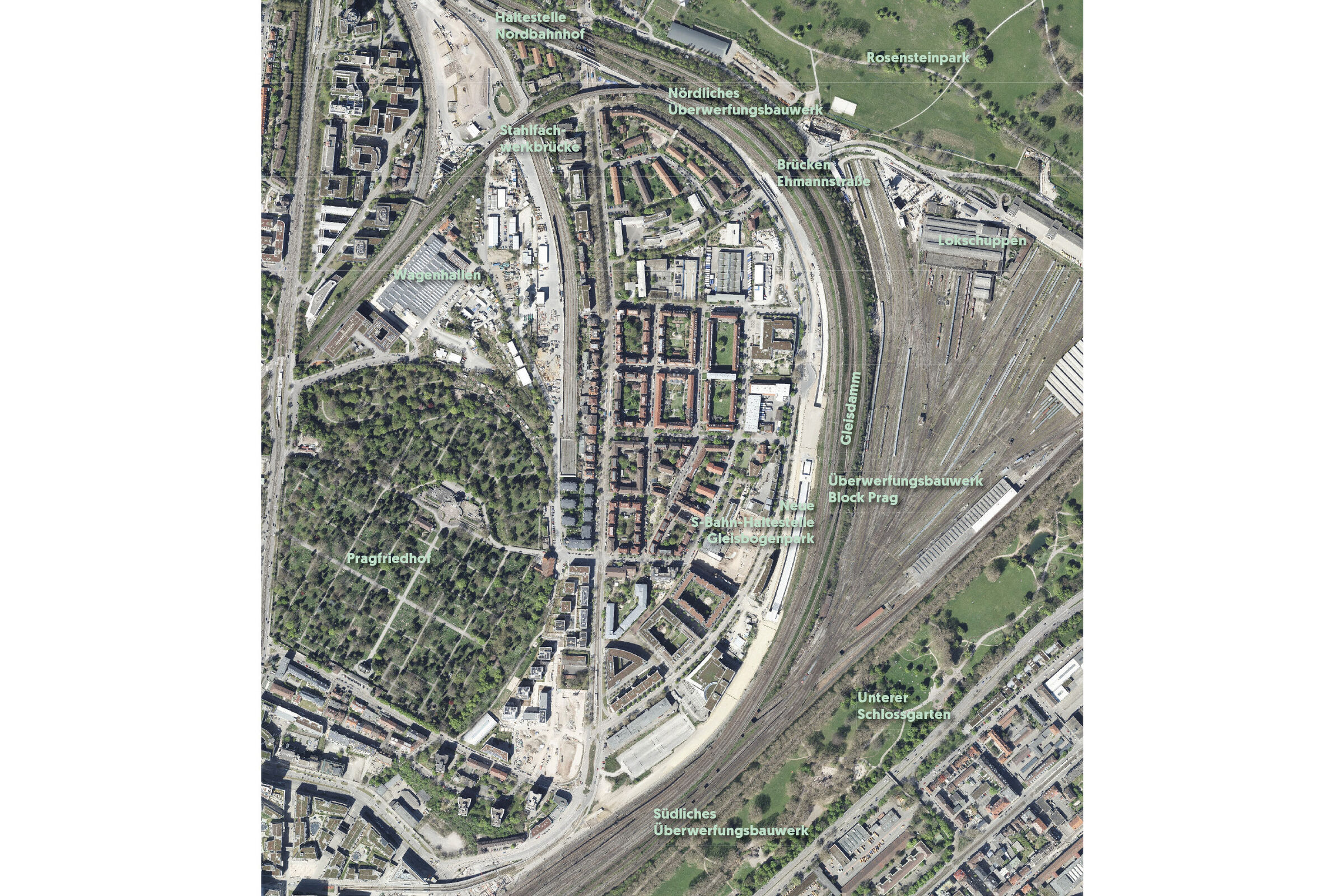 Gleisbogenpark is to become the urban backbone of the future district, Stuttgart Rosenstein. It integrates listed intersections which, resurrected as a reminder of their previous use, are to be preserved and in parts receive new life breathed into.
The Gleisbogenpark is a spacious green area, covering today's railway embankment and links the central station to Europaquartier and the Rosensteinpark hill, and the Nordbahnhof with Maker City. The track embankment stretches from the north at the Nordbahnhof next to Rosensteinpark southwards to Budapester Platz.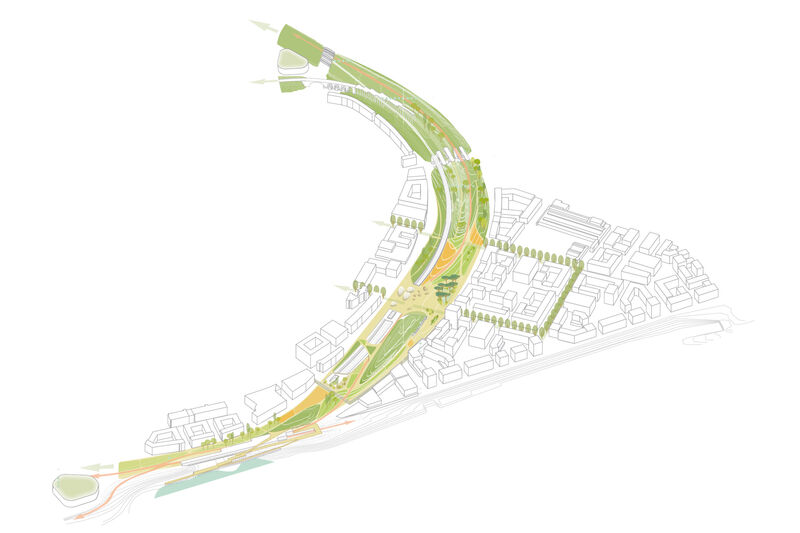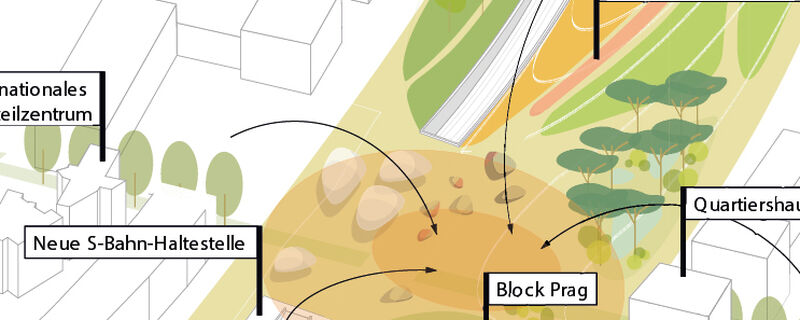 Parkmitte
A lively square is planned in the middle of Gleisbogenpark. There will be space for cafés, market stalls, a neighborhood house, picnics, playgrounds, temporary exhibitions and urban gardening. The park center is an important mobility hub with a new S-Bahn stop and high-speed bicycle connections. A central location for multimodal mobility services is to be created: From the S-Bahn to a rental bike, from a rental car to the neighborhood bus or on foot to a cab.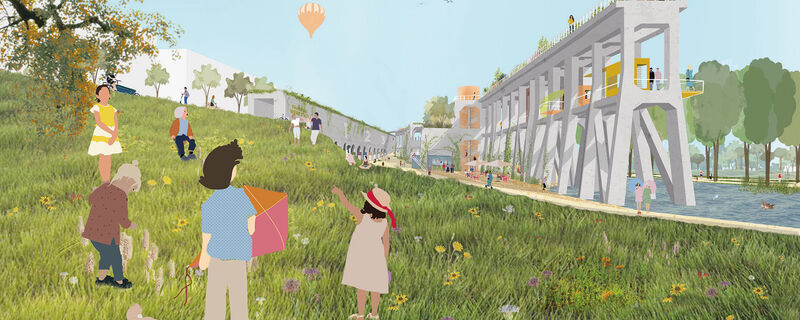 Southern fly over
The southern flyover could become a sculpture that can be played on and experienced. It could provide areas for art and culture, play, sport and exercise, and gastronomy, as well as for non-consumption activities. The building should continue to be used as a mobility structure with the intersection-free cycle paths and its construction should be made visible as a sculpture.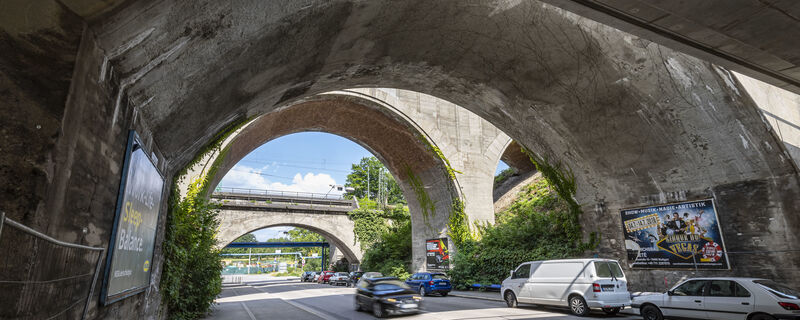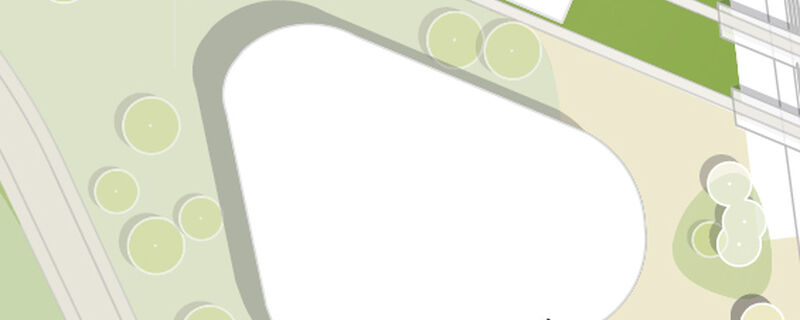 Special unit Nord (North)
The special northern building unit is to become a multifunctional building and to form the prelude to the Nordbahnhof district. A multifunctional hall for 1,000 people is planned for sports and cultural events. Leisure activities and club sports as well as social facilities such as daycare centers and youth clubs will enliven the building block. It could be supplemented by cafés or kiosks. The convenient location allows for loud events and large crowds.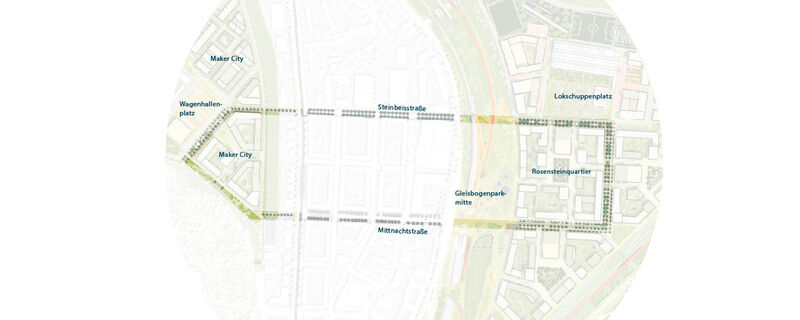 Loop
The Loop is a ring road - designed as a wide, green street space. It links the Rosenstein district with the Maker City via the existing Nordbahnhof district.
Programming
The park offers a wide variety of activities. In addition to the classic uses of a park for sport and recreation, species protection also plays an integral part. New opportunities also improve its social infrastructure. This includes urban agriculture and areas with cultural uses, such as studio spaces, exhibitions and outdoor workshops, as well as venues for theatre and concerts, which are used independently and temporarily by user groups.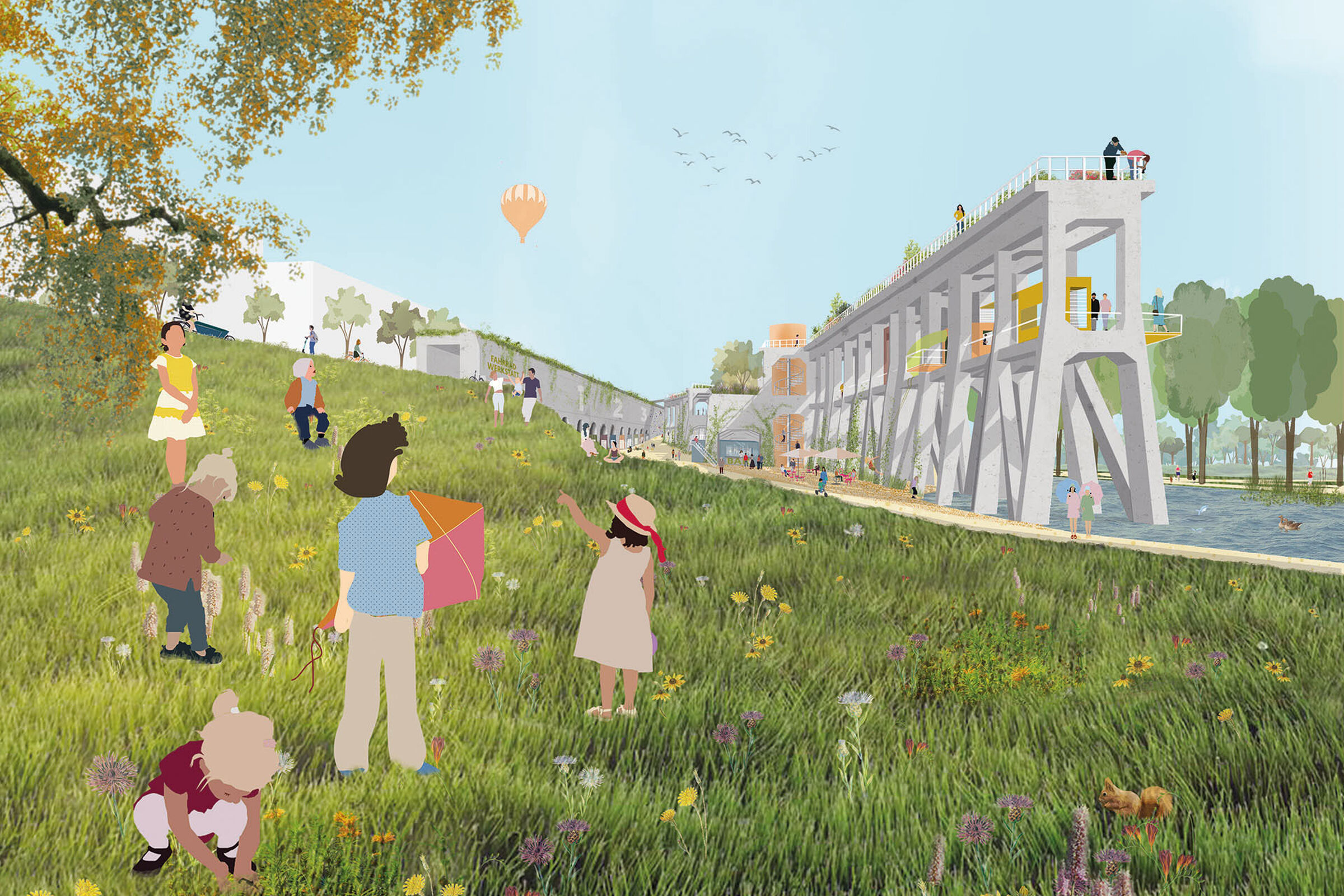 The southern flying junction and how it could be reused and livened up in the Stuttgart Rosenstein to come.
Mixed use
Almost 20 hectares of the entire development area Stuttgart Rosenstein are allocated to the future Gleisbogenpark. 55 percent is planned as a park space (with water, green and roof areas), the rest for plazas, pedestrian ways and cycling paths. While the centre of the park is a hybrid location between the park, city and mobility, the southern flying junction is to link Schlossgarten and the new park and is planned to become a cultural focus. The park will be developed as a versatile space where people can interact with fauna and flora and with no end of opportunities to use the open space.