At the entrance to the future Stuttgart Rosenstein district, Area A3, is to become the new signature showpiece of the City of Stuttgart. Let us know how you feel about it.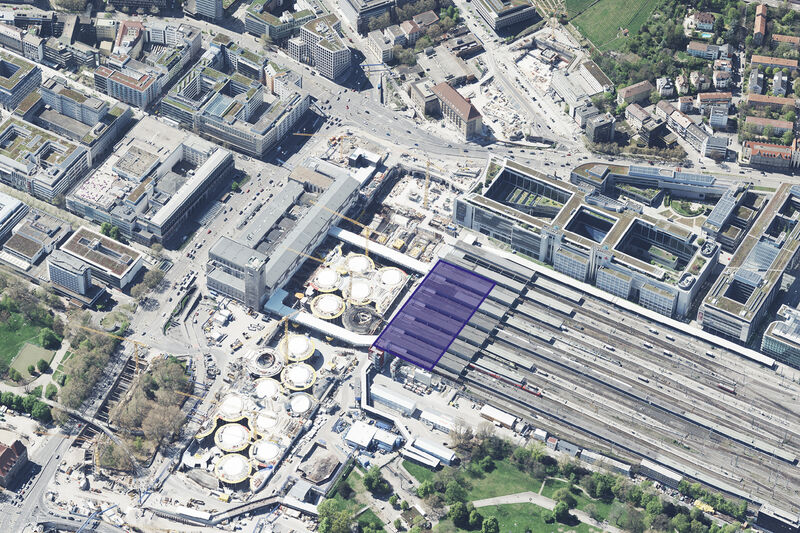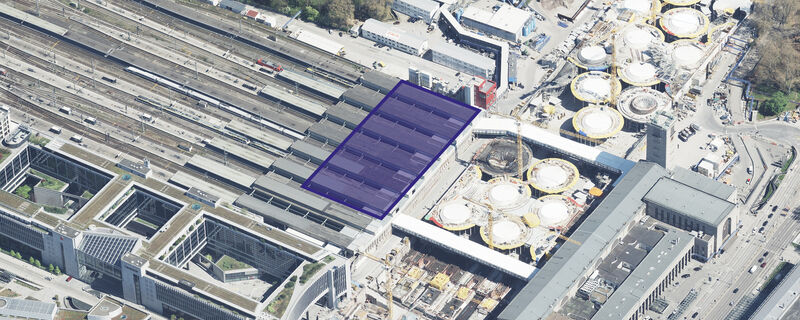 A3 – Raum für Ideen
Was kann hier entstehen? Die Fläche "A3" grenzt direkt an den geplanten Manfred-Rommel-Platz mit den Lichtaugen des Hauptbahnhofs.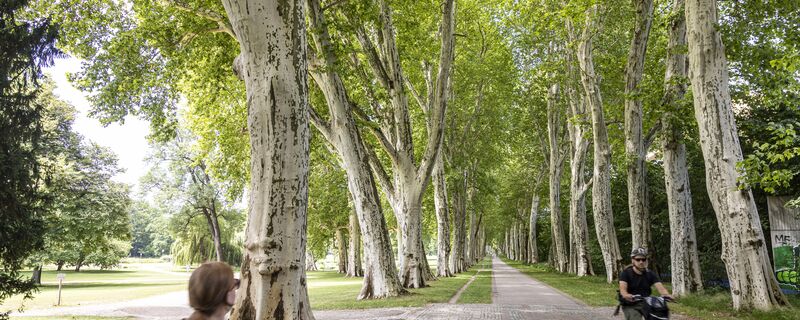 Schlossgarten
Der Schlossgarten wird zukünftig direkt an den Sonderbaustein A3 angrenzen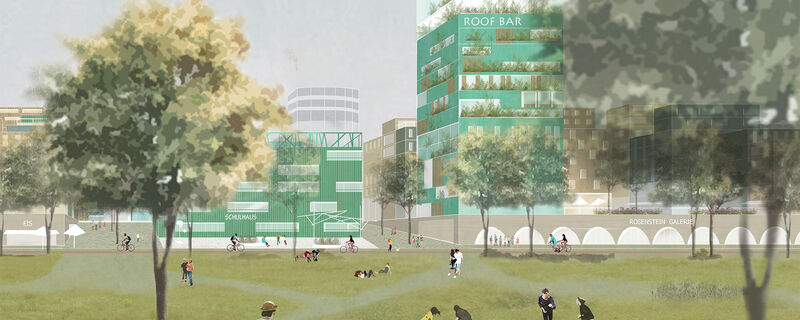 Zukünftiges Europaquartier
Auf dem heutigen Gleisfeld entsteht das Europaquartier.
Bahnhofsvorplatz
Der Bahnhofsvorplatz soll langfristig verkehrsberuhigt werden. Dafür soll der Cityring vergrößert und über die Wolframstraße geführt werden.
The A3 area is situated right at Manfred-Rommel-Platz, where the skylights of the central station are located. It connects the square with the newly developed Europaquartier and thus is the starting point leading into the new Stuttgart Rosenstein district. With an area of some 60 × 117 metres, the construction field offers space for pioneering design.
A line of trees – an alley – is planned to separate Manfred-Rommel-Platz from the new building at A3. Alternatively or, in addition, the new building could also have a green façade.
Read this page and click on the black button below "→ Be a part of it here" and complete the questionnaire. You will then receive confirmation by e-mail where you have to verify your participation.

The results of the present participation will be included in the international brainstorming and will help the jury to make a decision at a later stage.

Following this input, an international brainstorming will be initiated where you can develop and submit precise concepts for utilisation. The best ideas will be designated by a jury and then presented. In due course the municipal council will decide which of the award-winning ideas are to be considered in the final concept. Subscribe to our newsletter if you want to stay tuned, as regards the start of the international brainstorming.



Yes, our participation exhibition will include several information events on Stuttgart Rosenstein in various districts. A workshop on the A3 Special Unit takes place on Saturdays at 3 p.m. Dates can be found here. Participation is free, registration not necessary.


Am 18. Oktober 2023 werden im StadtPalais – Museum für Stuttgart erste Ergebnisse vorgestellt. Hier geht es zur Anmeldung. Nach Fertigstellung wird eine vollständige Ergebnisdokumentation auf rosenstein-stuttgart.de veröffentlicht.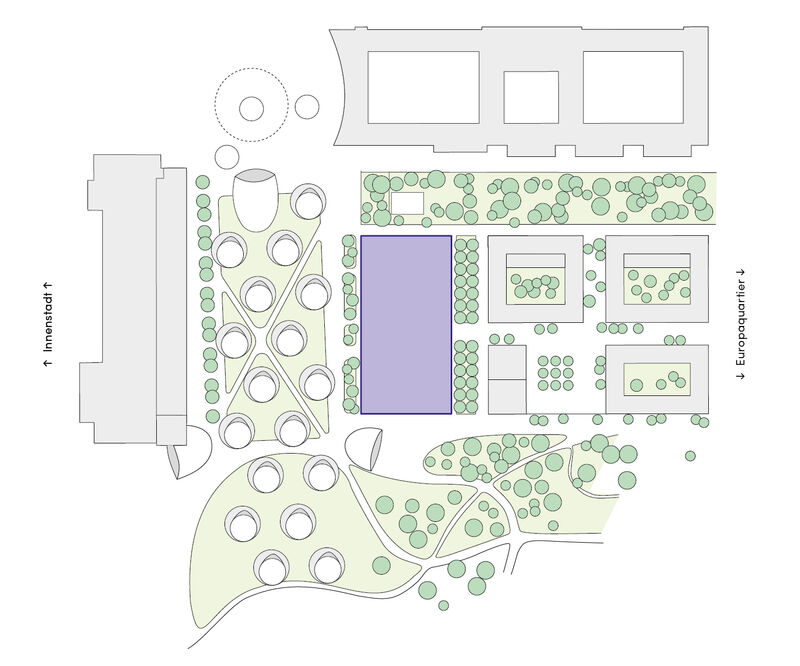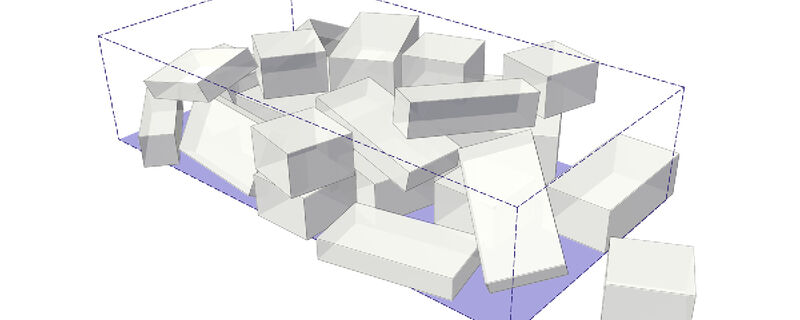 Field of Ideas
Dort, wo sich heute noch die Bahnsteige des Kopfbahnhofs befinden kann auf rund 60 x 117 Metern etwas völlig neues entstehen. Im Bereich Beteiligung sind bereits heute eure Anregungen, Wünsche und Sorgen gefragt. Anschließend werden in einer internationalen Ideenfindung die besten Ideen für diese Fläche ermittelt.

Baumreihe und/oder grüne Fassade
Zwischen den Lichtaugen auf dem Manfred-Rommel-Platz und dem Sonderbaustein A3 ist eine Baumreihe angedacht. Alternativ oder ergänzend ist auch eine grüne Fassadengestaltung möglich.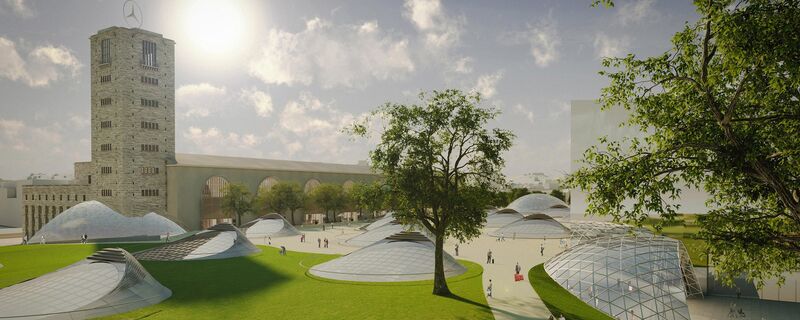 Manfred-Rommel-Platz
Der Manfred-Rommel-Platz ist Teil des künftigen Stuttgarter Bahnhofs. Auf ihm befinden sich die Lichtaugen der Bahnhofshalle. Der Platz soll in weiten Teilen begrünt werden.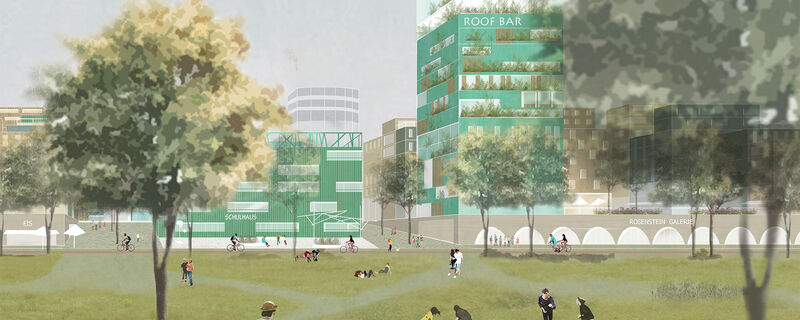 Europaquartier
Direkt anschließend an den Sonderbaustein A3 entsteht das neue Europaquartier.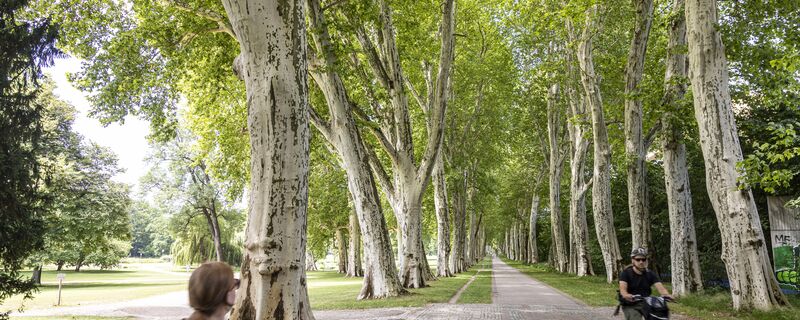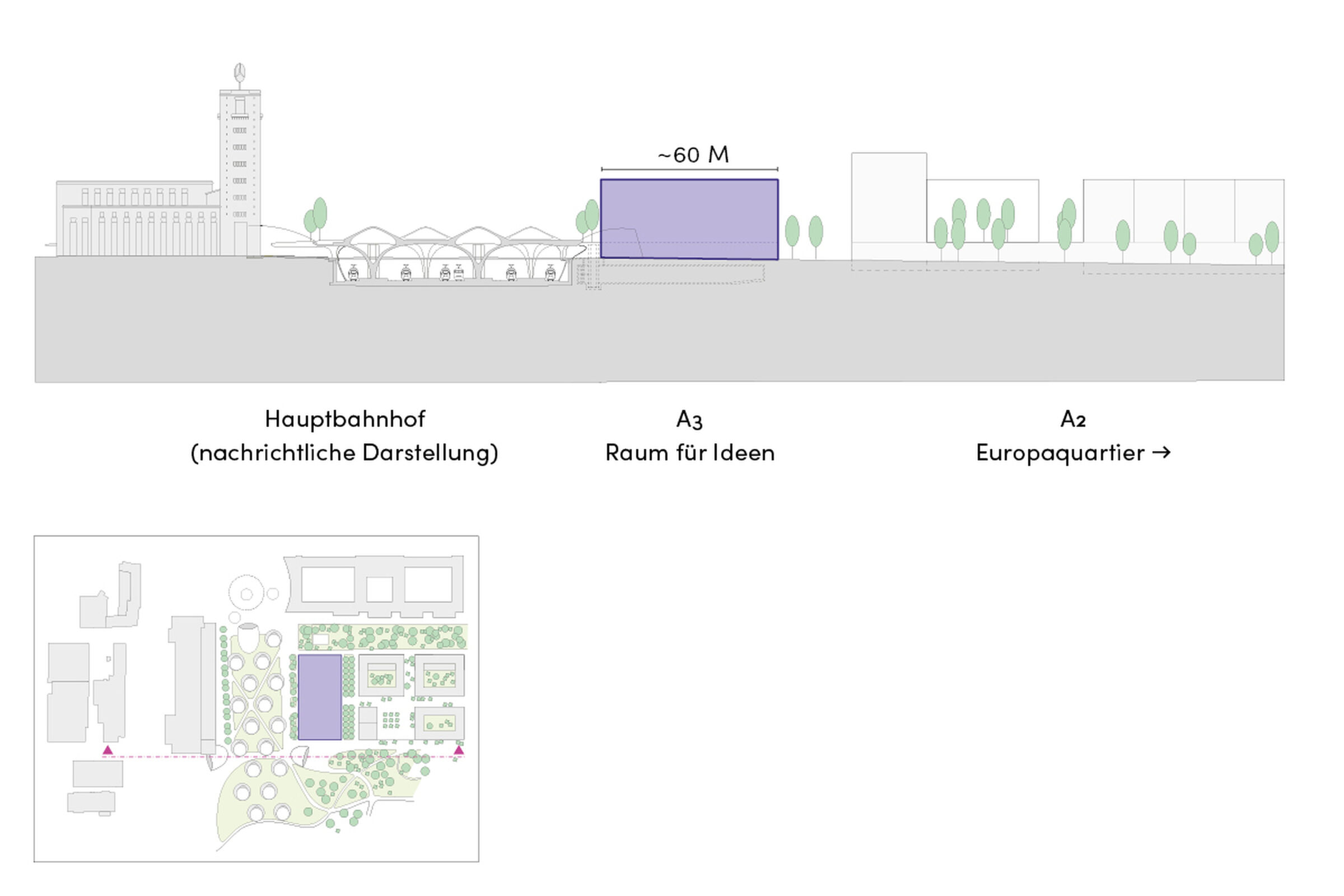 View from Schlossgarten. A line of trees is to separate Unit A3 from Manfred-Rommel-Platz (on the left). An alternative would be a green façade. Parking facilities for cars and bicycles are proposed for the basement floors. Access from the central station is considerably higher than on the side of the planned Europaquartier.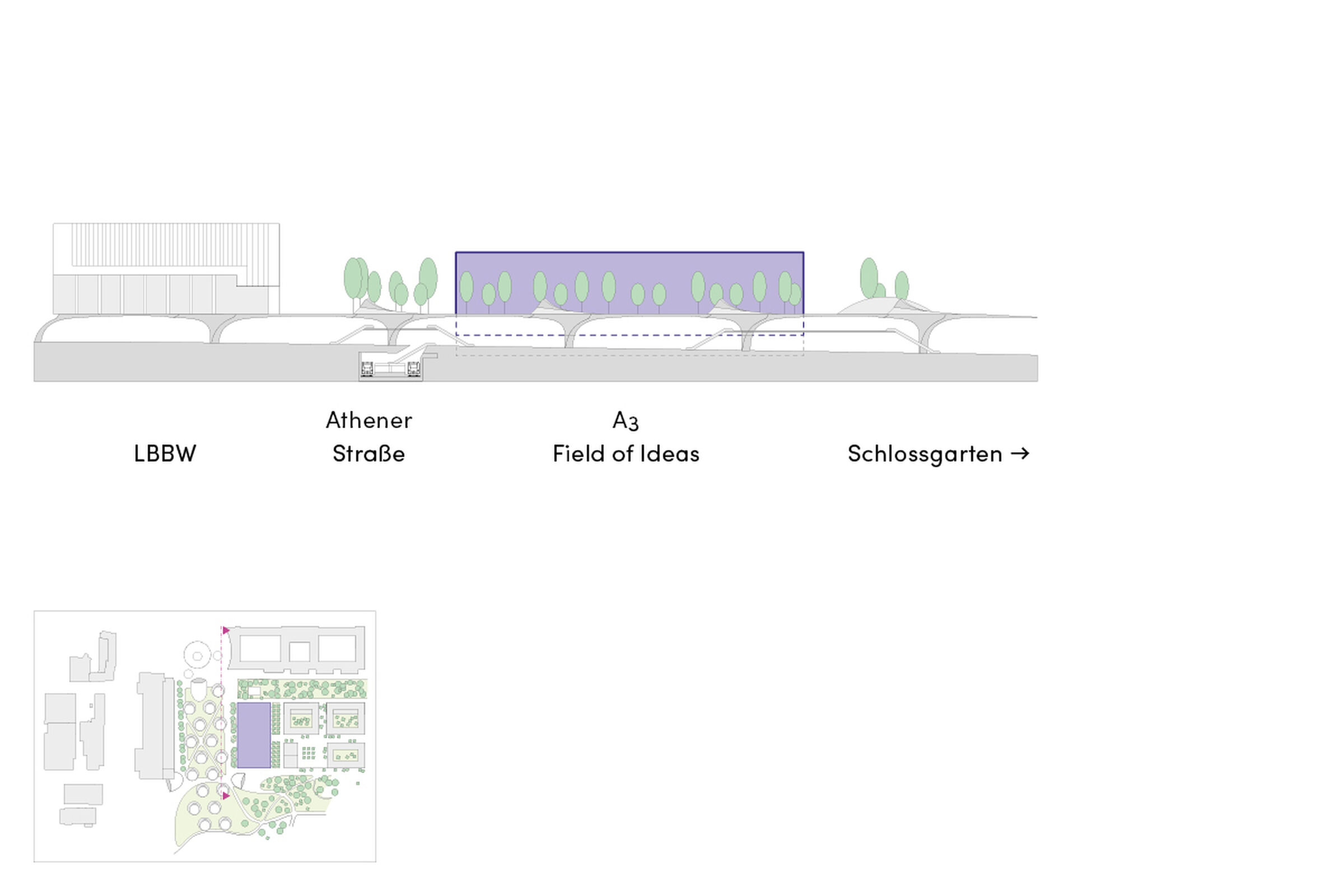 Line of vision from Manfred-Rommel-Platz. Unit A3 can be accessed directly from the roof of the underground station. There are also direct connections from the station concourse into the building. The city train tunnel runs underneath the concourse.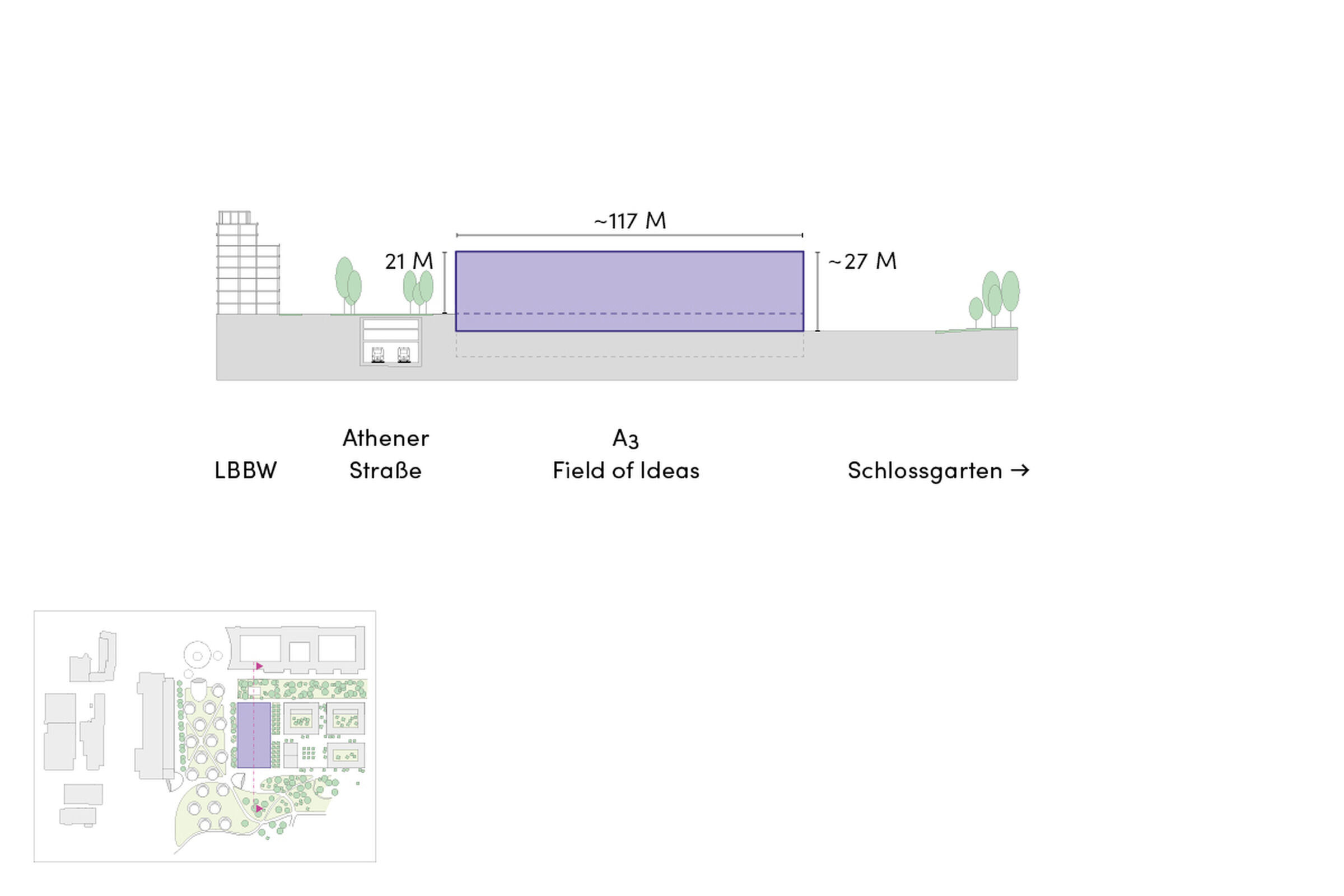 Sectional view. The green landscaped Athener Straße (left) is approximately six metres higher than Schlossgarten (right). The city train runs underneath Athener Straße.
What we would like to know from you
The subject of the following questionnaire is how important is the Special Unit A3 for Stuttgart – not only at an international, but also at a local level. It will only take about ten minutes to answer the questions. The needs, preferences and concerns will be included in the call for international brainstorming and help the jury later to make a decision.
Confirmation required! After you have completed the questionnaire, you will receive an e-mail with a verification link. Your contribution will only become officially part of the participation after this confirmation has been submitted.